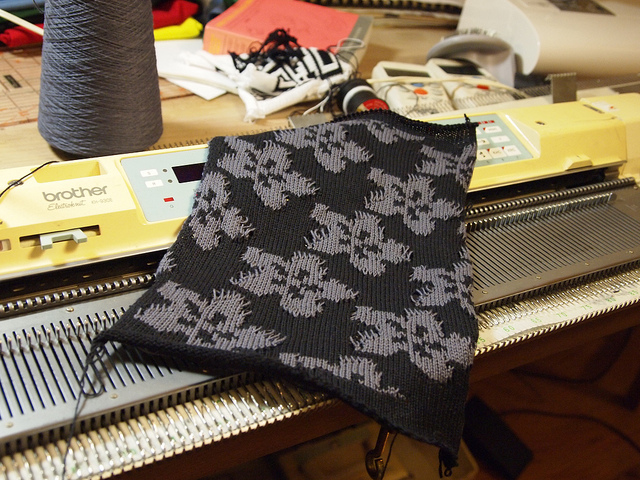 The Brother Knitting Machines are the most popular brands of knitting machines in the United States of America and remain popular there and in many other places around the world. The Brother Knitting Machines are some of the most diverse and flexible and are well built and relatively easy to use.
Brother has been building Home and Industrial Appliances as well as business equipment since their inception in 1954 and they have maintained an excellent reputation throughout the years. That reputation was hard-earned and when Brother puts its name behind a product, you can rest assured that you will be getting excellent quality machines and an excellent value for your investments. The knitting machines built by brother are certainly no exception there.
Brother Knitting Machines come in a variety of shapes and sizes for all different manners of knitting. The Primary Knitting Machines are all of the KH series but you may occasionally see KR and KX in reference to these same machines. Do not let that throw you. The Brother KR Series is actually a set of Ribbing Attachments for certain individual knitting machines as well as two additional instructional and owners manuals for the Ribbing Attachments. There is also a KRC 830 which is a Color Changer. The KX 350 is the only machine in the KX series.
The KH series of Brother Knitting machines is a very extensive and comprehensive selection of equipment. While there will always be things that a human can do which a machine cannot, the people at Brother have done a pretty good job of making a selection and variety of knitting machines that will fit most of your needs.
No matter whether you are trying to automate part of your knitting production, just want to experiment a little or actually need the machines for mass production, the brother knitting machines are going to have something that does exactly what you want and need it to do. Many of the Brother machines come replete with a selection of patterns, punchcards and instructions to help you get started immediately. However, do not expect to master any knitting machine in the very first day.
The very first thing you need to do before you ever consider purchasing a knitting machine whether it is a Brother or any other brand, is to clearly define your needs and expectations when it comes to an "automated" knitting machine. There is not going to be any single machine that can do everything.
There are flat machines for knitting flat sections of cloth. These are generally very popular among artists and others who may want a unique background for a photograph, wall hanging or other work of art. The "Nine Millimeter" knitting machines are made specifically for heavier yarns and generally have a looser weave than the machines that are built for the baby yarn or thread-like yard often used in socks and even some clothing items. The machines built for the smaller yarns will never be useful for large sweaters, ascots, scarves and other items typically made with larger yarn.
Still, if you are looking for a reliable and dependable knitting machine that does have a number of options, the Brother Knitting Machines are never a bad idea. Given the ease of use, the readily available patterns, owner's manuals and even instruction booklets straight from the factory itself make the Brother Knitting Machines a great option and a great overall value for the price.
Image Attribution:
Brother Knitting Machine Image
Video Attribution:
Brother Knitting Machine Video