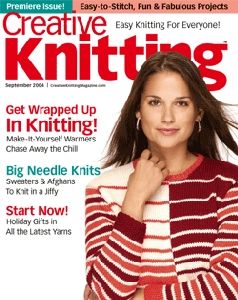 Knitting magazines are a great way to learn more about the world of knitting. Like any other magazines focused on crafting, there are a variety of topics covered that are of special interest to knitters. Regardless of your experience level with knitting or other fiber crafts, reading magazines about the craft can inspire and teach you. You can find information in these magazines that you've never learned, such as tips and tricks, brand new patterns, fun new product reviews, and many more. If you've never subscribed to a magazine dedicated to knitters, you may want to consider adding one or two to your monthly reading list, just for fun.
Why Knitters Love Magazines
If you've never perused a magazine for knitters before, you don't know what you're missing. Whether you are a brand new knitter or have been knitting for years, there is something for everyone in these magazines. Some benefits to reading these magazines include:
• Find out about new yarns
• Find new beginner and advanced knitting patterns
• Find specific knitting machine patterns
• Read about knitting designers
• Read articles about other fiber arts such as spinning or dying
• Find businesses that sell interesting findings such as buttons, zippers, appliqués, and other fun additions to knitting.
In addition to finding this information, most of these magazines come out either monthly or seasonally, so you'll get plenty of new information throughout the year. As with fashion magazines, craft magazines, or even store catalogues, knitting magazines focus on seasonal appropriate themes. This means that around the holidays you may find patterns for knitting Christmas stockings or a tree skirt. In the summer you might find some cool projects you never thought to knit during the summer, or you may get a sneak peak at fall trends. There are so many fun things to read about in these magazines; you'll find plenty of inspiration for your next project there.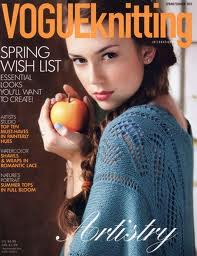 The Most Popular Knitting Magazines…
If you go to your local craft store or yarn store, you'll probably find yourself bombarded with a large variety of fiber arts magazines. It may be hard to decide which magazine you want to try. When you're in doubt about it, the best bet is to pick up one of the top sellers. Some top selling magazines for knitters are Creative Knitting Magazine, Vogue Knitting, and Knit 'n' Style. These magazines have proven themselves time and time again to have the best articles, patterns, information, and advertisements according to seasoned knitters. Perhaps picking up one of these magazines would be a great place to start!
Creative Knitting Magazine is one of the most popular magazines among knitters. Their tagline "Knits with a Timeless Twist," describes their content perfectly. In this magazine, you will find creative knitting patterns, tutorials, tips and tricks, and seasonal projects in each issue.
Vogue Knitting, another popular magazine among yarn addicts boasts a 30 year reputation among knitters. Their loyal followers love the free patterns, discount codes, how-to's, and product previews available between the covers.
Knit 'n' Style, which claims to be "Real Fashion for Real Knitters," is not your grandma's magazine. If you pick up this magazine at the newsstand, you'll find some great information on hand-dyed yarns and even articles discussing yarn bombing and offering inspiration on the subject! They also have both knit and crochet patterns to offer to a variety of readers. If you're a young knitter looking for more unique content, this magazine is the one for you.
There are many great knitting magazines available today. If these three don't capture your interest, there are plenty of other options available. Perhaps you should try picking up one with an interesting cover and see how you like it!
Knitting is a craft that you can easily dive into and want to learn more about. If you love knitting and want some new inspiration for your next project, you may just find it in a new magazine. You can find tutorials, free patterns, knitting accessories, and information on a variety of fiber-related topics by simply opening the cover to one of these magazines. If you haven't checked out a knitting magazine yet, you should consider it.