I am going to go against all of the rules here and do something that I was told never to do. I am going to write an article all about ME ME MEEEEEEE! Okay, it is not all about me really but about some of the knitting that I have discovered is much easier (for me at least) using knitting machine patterns and playing around with them a little bit. Now this is not entirely true for all of them but for quite a few of them, what I have done is taken basic patterns and embellished on them as well rather than just using the knitting machine to create embellishments for my other works.
Now one of the most common things I use the knitting machines for is the simple knots … simple for most people at least. The Celtic Knots are among my favorites but while I am able to do quite a bit of needlework without too many problems, the slight shaking in my hands prevents me from doing much detail work with knitting needles … especially when it comes to some of the more lightweight yarns. I enjoy using the smaller knots as decorative items on larger pieces I create for other uses.
Knitting the Celtic Knots around a small, round magnet allows me to create really neat little refrigerator magnets that are decorative as well as functional. Additional uses can include using them to highlight other items as well. There are the ever-popular decorations for throw-pillows which will likely always remain very popular. Additionally, I make hems for lampshades, curtains and even for valances over windows and doorways. The smaller decorations help to highlight the work and make it stand out as opposed to the more simple knitted lace trim or hemming.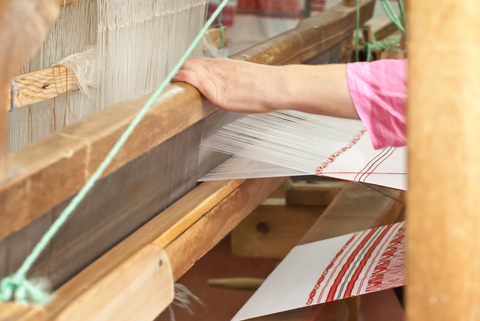 Neck chains are very popular and if you are looking for a part-time and profitable hobby, you may be surprised how much you can accomplish with the right patterns and a fairly cheap knitting machine. Again, due to the shaking in my hands, I have a difficult time with the Ribbon Yarn. However, the Ribbon Yarn does make some really nice "bolo" like necklaces which I knit into a small plastic clip which can then be used to hold pens, id cards and even cell phones. If you do not like the Ribbon Yarn, the very Lightweight Yarns also work very well for this. There is almost no limit to what can be created here. The same techniques can be used for watch chains, bracelets and even small, colorful and cheap rings that can easily be sold for a couple of dollars each.
I have knitted covers for about everything in my home short of the furniture. Given time, I may do that as well but for things like cookie jars, flour containers, spice racks and other common household items, a custom made knitted cover just gives it a bit of a personal touch. However, in some areas, the common knots made with the Chunky Yarn not only attract dust and dirt, it seems to capture it and hold onto it for dear life making it very difficult to clean.
The custom knots made with the Lightweight Yarn allow for a more decorative touch without being so difficult to clean or requiring nearly as many washings … which even in cold water will eventually wear on your knitting work. Now here I have to cheat a little bit since most of my personalized covers are made with the heavier yarn and the lace or knots I knit are not about to go in with the same stitching. I do have to use a few stitches of thread to sew them on but if you use close colors, you can make this seam almost invisible.
If you want to make it stand out, use a gold or blue metallic thread and make an actual border around the embellishments to make them stand out even more. The contrasting colors can work just as well for highlighting as the similar color yarns and threads do for making it more subtle. It all depends on your personal tastes. Knitting Machine Patterns are very similar to recipes in this aspect; while you can generally rest assured that the pattern will work, it is sometimes just fun to see what can be done to make it just a little better and a little more "you".