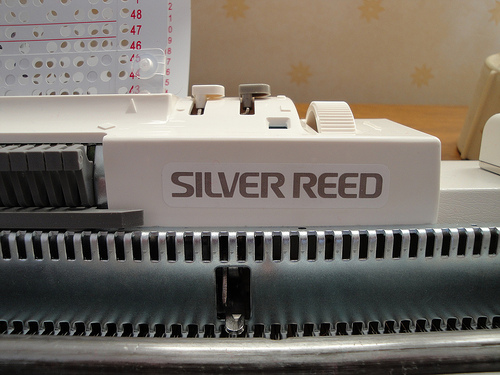 The Silver Reed Knitting Machine is the only series of home knitting machines still in active production. While not all of their older models are available as new products, this does give them something of an edge over their competitors. The Silver Reed Knitting Machines are Japanese made and have been distributed under the names of Singer knitting machines, Studio, Empisal and KnitMaster.
Apart from the fact that they are the only home knitting machines still in production, the Silver Reed Knitting Machines do have some other points in their favor. They are relatively easy to set up and use which puts them way ahead of much of their competition especially among people who are new to the world of knitting and more specifically, machine knitting.
Used Silver Reed Knitting Machines are also readily available although parts for some of the older machines can be a bit difficult to obtain. Some of the older machines may be sold online as "Vintage" but they still seem to be well built and capable of coming out of retirement to function fine. Used parts may not be plentiful but they are available online even if you do have to do a little bit of digging to find them.
Places like E Bay do seem to get them on a pretty regular basis and some of the shops regularly purchase old machines specifically for parts both to use and to sell. Another great advantage with the Silver Reed Knitting Machines is the ability to interchange a limited number of parts. While this is not true with all of their machines, lists are readily available online which will show you exactly what parts can be interchanged among their different machines.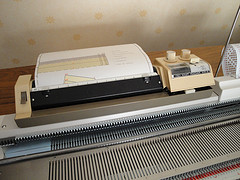 Additional benefits of the Silver Reed machines in regards to this aspect is the fact that you can still go directly to the factory with your inquiries. Even if they do not sell the older machines any more, there are still people there who have more information than the average person will. They may also have just what you need on hand stashed in a corner somewhere and while it may require a little bit of time on the telephone, this can be a great bonus for people who are not overly familiar with the complexities among even the simple knitting machines.
The Silver Reed machines also come in a variety of sizes to allow you to work with nearly any type or weight of yarn. Some of the newer Silver Reed Knitting Machines are also easily used with many of the more difficult yarns and even wire should you wish to incorporate some of that into your knitting work. Patterns for the Silver Reed Knitting Machines are numerous and easy to find. While they are not as easily manipulated as with some of the other knitting machines, custom work and incorporating different aspects of different patterns is possible with a little bit of practice.
The price and the overall value make the vast majority of the Silver Reed machines a great bargain for the price. Their ease of use and low learning curve also make them a great solution for many people who are new to the world of machine knitting. If you are just looking for a knitting machine to help you along in some of those more difficult moments, the Silver Reed Knitting Machines are and will likely remain a great place to start.
Image Attributions:
Silver Reed Machine Image 1
Silver Reed Machine Image 2